Who Are We?
This project was run by artists from Curious Legends, as well as staff from Yayasan Permakultur Kalimantan in Indonesia. Curious Legends is an Australian theatre company that creates inspiring theatre for family audiences. For this project, we were delighted to be working with Shani Moffat (Sydney), Matina Moutzouris (Sydney), and our Artistic Director Mitchell Reese (Newcastle). Yayasan Permakultur Kalimantan is an Indonesian organisation dedicated to preserving the earth for many generations to come by educating local people in Central Kalimantan about sustainable land use practices. For further details about our creative team, please go here.
Why a project in Kalimantan, Indonesia?
Kalimantan is one of the Lungs of the Earth – rainforests are everywhere! Yet each year, more and more land is cleared for farming and over-development.
A toxic haze caused by illegal burning hung across Central Kalimantan in 2015 for many months – visibility was low, breathing was difficult, schools closed, and respiratory problems were rife. The estimate is that half a million suffered from respiratory illness as a result of this smoke haze.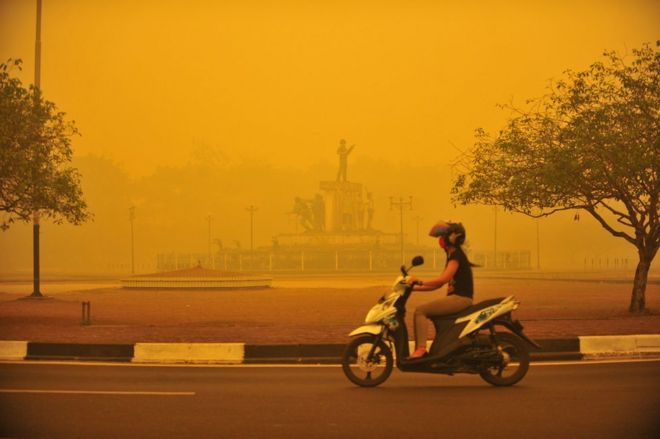 Smoke from the fires in Kalimantan and Sumatra spread across Malaysia and Singapore, in an environmental disaster that affected more that just South East Asia. The fire Indonesia to surpass the USA in carbon emissions, and reached levels equivalent to the UK over an entire year. The BBC coverage of the disaster showed the terrifying conditions for local people.
For Kalimantan's unique wild-life, the situation is even worse. Habitat is shrinking, food is becoming scarce, and Orangutans, a local icon, are being pushed deeper into the jungle.
Yayasan Permakultur Kalimantan is an Indonesian organisation helping turn things around. Through their workshops, public education campaigns, and active demonstration site, they're showing people a more sustainable way to live. In 2016 they Curious Legends to create a collaborative street theatre performance that discusses environmental concerns with the local community.
The performance used giant puppets, dance, audience interaction, and live music combined in a multi-artform performance that blended traditional Indonesia with contemporary Australian theatre. We worked with, Dayak elders, ethnic musicians, Indonesian artists, 5 primary schools and an orphanage to create a performance which toured the region! Sharing 6 performances in 5 locations, our project impacted on the lives of thousands of people.
Yet all of this is just a start. Yayasan Permakultur Kalimantan continues to engage local people on the ground in this important part of the world. Go here to find out more about their work, and how you can be involved!
Save